FIND LUXURY BEACHSIDE HOLIDAY APARTMENTS IN COOLANGATTA THAT OVERLOOK KIRRA BEACH
Do you enjoy booking holidays to take in some of the best surf in Australia? If you've picked Kirra Beach for your next destination, skip the humdrum hotel circuit and consider upgrading to luxury holiday apartments in Coolangatta right on Kirra Beach. Nirvana by the Sea has the most luxurious self-contained beachside holiday apartments in Coolangatta with amenities to suit you and your travel companions' every need. We book luxury apartments for Coolangatta travellers in two, three, and four-bedroom suites with the ability to bring in an extra cot when needed. Holiday apartments around Coolangatta have gained popularity compared to traditional hotel and resort accommodation for their privacy and home-like ambience.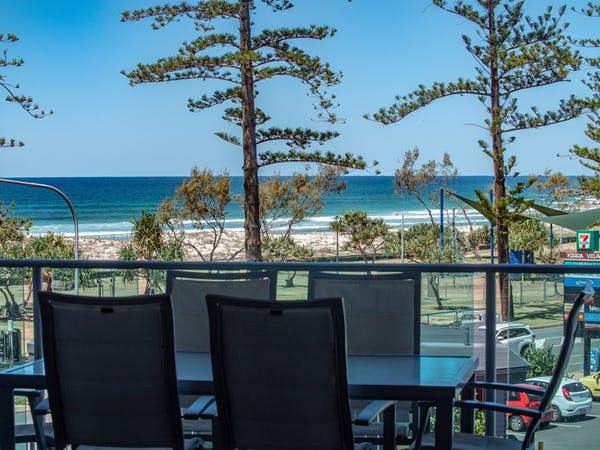 LUXURY HOLIDAY APARTMENTS IN COOLANGATTA FROM NIRVANA BY THE SEA
Our self-contained holiday apartments in Coolangatta welcome travellers from around the world and all walks of life. Each of our beachside holiday apartments in Coolangatta has a full kitchen with necessary appliances as well as washer and dryer units. This kind of accommodation allows you to cook for yourselves and pack lightly, both of which will help you save on travel costs; and less money on travel allows you to spend more on enjoying your holiday.
Since not every moment can be spent on the beach, Nirvana by the Sea makes sure the shared attractions for guests in the luxury apartments at our Coolangatta resort are peaceful, relaxing, and full of activity options. Keep on top of your exercise routine in our gymnasium, or enjoy a book and a cup of tea while experiencing amazing views in our library. Guests in our holiday apartments in Coolangatta can reserve our exclusive movie theatre; bring in snacks and let your whole group be terrified by a late-night horror flick—show your own, or rent from our collection. Of course, Beachside holiday apartments in Coolangatta wouldn't be complete without a lap-pool, a hot tub, a sauna, and a poolside BBQ.
A Luxury Experience without the Luxury Crowds
Nirvana by the Sea was voted Traveller's Choice 2017 by Trip Advisor, putting an end to the assumption that hotels provide superior accommodation. Have you ever had the unpleasant experience of having a valuable item or favourite piece of jewellery stolen from a hotel room? Luxury Holiday Apartments in Coolangatta have become more popular because your party alone has access to the apartment during your stay. Keep your belongings safe in our luxury apartments in Coolangatta's beach town without sacrificing the service luxuries of high-class hotels.
Take the stress out of travel: we'll hire a bike or book a taxi for you, or get that stain out of your shirt with our dry-cleaning service. In addition to facility-wide free wi-fi, we offer copying and faxing services for the workaholic in your group who's squeezing in deadlines between surfing rounds. With so much privacy and so many accommodation options, it's easy to see why Nirvana by the Sea is the number one choice for high-quality, exclusive, luxurious beachside holiday apartments in Coolangatta for Kirra Beach travellers.